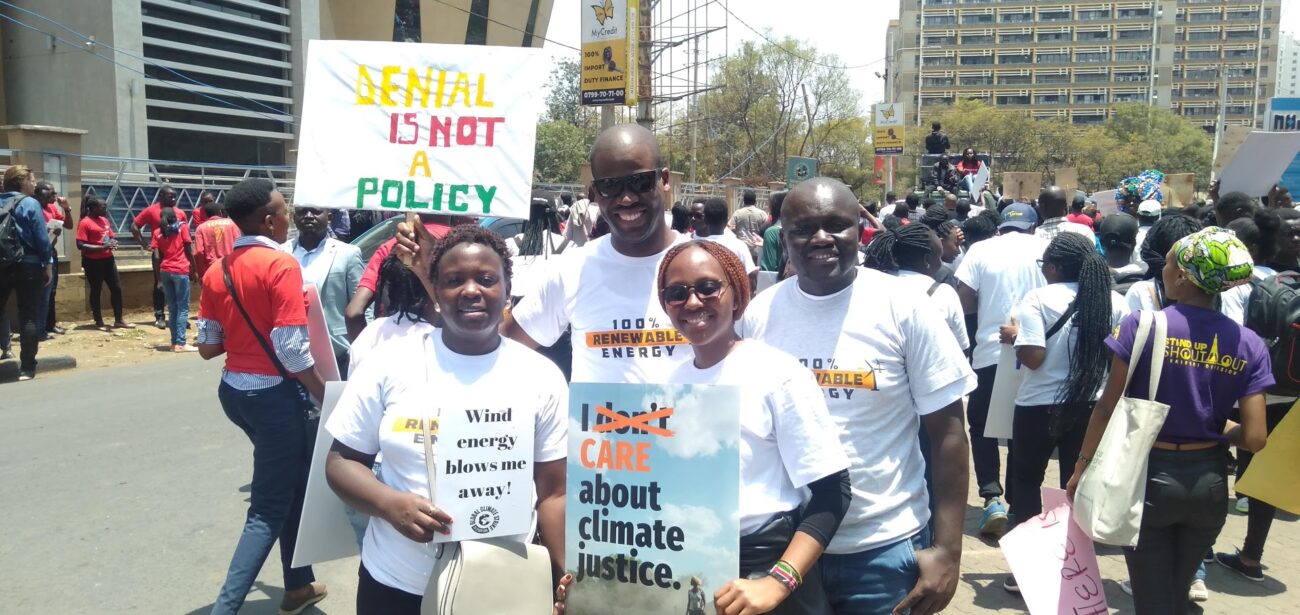 Filed by Joy Kibarabara.
"Like the young girl says: we should stop thinking of it as an economic war and make it a humanitarian war. If we change from that, we'll achieve the 1.5, but as it is now, no!" (Photo: private. Michael Khaduyu to the right.)
What would inspire a young university graduate to change career paths soon after completing a hard-earned undergraduate degree? Climate change awareness. This is what Michael Khaduyu, a young Kenyan climate activist did when he changed his career from human resource management to climate and environmental advocacy after a friend introduced him to the Kenya Youth Climate Network.
It was here that his interest in climate change was nurtured and he began to educate himself more about the subject while connecting that knowledge to the climate change challenges his village was experiencing. Khaduyu has since become the National Co-ordinator of the Kenya Platform for Climate Governance (KPCG) which is the designated national platform for Pan African Climate Justice Alliance (PACJA). This platform has presented him a unique opportunity to join other climate activists who have engaged in various actions such as lobbying and demonstrations to demand greater government and private sector interventions to address intensifying climate change effects on the African continent.
One of these actions included the 2019 global Fridays For Future campaign where Khaduyu was part of a team that organized a 10.5-kilometer march in Kenya's capital city Nairobi, with school children participating and a colorful procession band. Khaduyu and his associates also regularly engage media outlets to create climate change awareness. Khaduyu admits that climate and environmental news is not "sexy news" as compared to political news. Therefore, there has to be a "deliberate effort" and "motivation" to attract media coverage.
And is the world able to limit global warming to 1.5 degrees? Khaduyu says the responsibility lies with the two biggest world economies: US and China: "they are arguing that renewables are expensive and they are not sustainable, which is not true. It's just that they are not willing to get their investments outside of India and China. Like the young girl says: we should stop thinking of it as an economic war, and make it a humanitarian war. If we change from that, we'll achieve the 1.5, but as it is now, no."