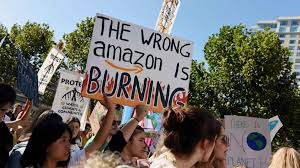 Filed by Camila Nobrega. "There should be ways to connect climate change with the problems we're already facing, how it really connects with our lives. They're not separate things," says Raquel Milena Tupinambá (30) from Brazil.
Raquel Milena Tupinambá – called Tupi, lives in Santarém, Parà, Brazil and has become a symbol of young women's struggle in indigenous territories in Brazil. She believes there is no way to talk about environmental issues without relating them to historical processes of colonization and occupation. – I see what they are talking about out there – about climate change, and I think it is running away from our local reality.
Although she is concerned about climate change, she does not identify herself as a climate activist, but as belonging to the people who defend their territory. However, she sees her presence in the territory as protection of maintenance and the protection of women.
– Traditional peoples do not depend on massive, accelerated exploitation, such as the removal of timber for trade, of agribusiness. When a megaproject arrives, with the logic of the outside, it directly affects the body and the dignity of women.
Missing: connections
As Brazil has been a symbol of climate protection by keeping its rain forests alive, it is not hard from the outside to see the connection between this protective work and climate action. Tupi is of course aware of the international debate on climate change. – I know it's concentrated on mitigating the impacts. And I've read that expression many times. But I think it's very complex because it seems a bit distant and it actually has to do with our lives in the territories, it impacts the forest, people talk about it all the time. There are many looks at what we see as the impact of these activities that bring destruction to our lives. Climate change is an expression that has become very famous, but it doesn't sum it all up.
How to reach out to the world with her perspectives? – For a while I thought, let's not talk, let's not report. But at the same time, we complain and suffer because we are discriminated and excluded. This happens because this world does not know us. If the government says there's no indigenous territory, people will believe.
She concludes: History is also based on the destruction and extinction of many ways of life. This needs to be the starting point for understanding the different views of young people about what is nature, for example!