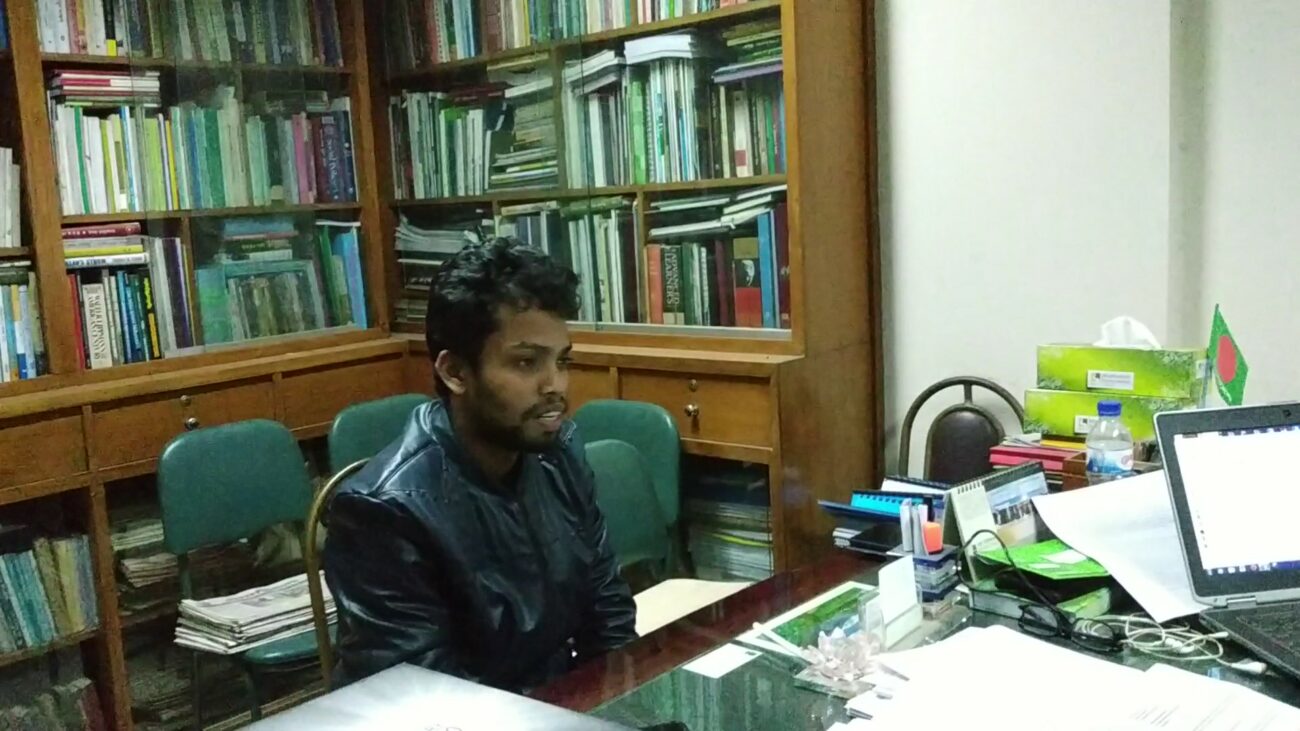 Filed by Mofizur Rhaman. -They live with poverty, vulnerability, cyclone and storm. So I was thinking: are they liable for this? What are the reasons behind this vulnerability? I thought I had to do something and gradually became part of the climate movement and activism.
Sohanur Rahman (30) from Barishal, Bangladesh got involved in the climate movement after visiting one of the many vulnerable areas of his country. However, he is also old enough to remember the Sidr, a devastating cyclone which hit the South-Western part of the country in November 2007. At least 3500 people died, and 2,3 million households were affected. – I lived in Jhalokathi district, where many people's homes were destroyed. I was in class seven, and my family worked with disaster management. I was not completely aware of climate change at that time but had some scattered knowledge.
Sohanur, also known as Sohan, used to work as an engineer, but quit his job and is now actively involved with climate activism, networking and working for vulnerable groups. He is the founder of YouthNet for Climate Justice (YN4CJ) – a voluntary youth organization network for raising awareness and taking actions to tackle the adverse effects of Climate Change. Furthermore, he runs the Youthnet for climate justice Facebook group. Sohan has been one of the key Bangladeshi young climate change activists who has focused on bringing youth voices into decision making processes for many years.
In 2016, Sohan was working on a documentary from Underchar, a poor area where 8000 people live. – They have only one cyclone shelter, and no high school. When I went there to work, I was neither inspired by the media nor the government. When I saw the human suffering on the ground, I thought I had to work for these people, I got inspired by the field experience.
Contact with Greta Thunberg
He also became involved with the Fridays For Future movement: – We had some friends on Facebook who were involved with Greta's movement. We followed their call for Fridays for Future strike, we discussed their offer with stakeholders from various youth organizations. She is a teenager, and as we have been working for these groups, we had to respond to her call. Greta Thunberg said that the world leaders have betrayed us. We learned about her statements through social media. When we organized the conference in Barishal, we said we will use social media to communicate with people who are working in other countries. We will get connected with them, we will share knowledge through social media as in this age of globalization it is easier!
Sohan is sceptical about high-level conferences such as the COPs (Conference of Parties), where future plans for climate change mitigation and adaptation are made. – Actions are not taking place [there] as per grass-roots peoples' expectations. Events are held in big 5 star hotels, universities, government offices, INGOs' [International Non-Government Organizations] air conditioned rooms; not in the places where people are suffering. People do not consider them as positive. Thus, misconceptions around climate activities develop among ordinary people.
He is also not very happy with the media coverage of climate change: – The journalists do not understand anything except current news. If there is an event like a human chain, discussion program, they cover. If we approach mainstream media reporters, they do not show interest unless they are asked by the head office. Then, they look for us"
Sohan is thinking of several projects for the future, one is to try and stop a coal based power plant in the Sundarbans, a mangrove reserve forest in the South, shared between Bangladesh and India.