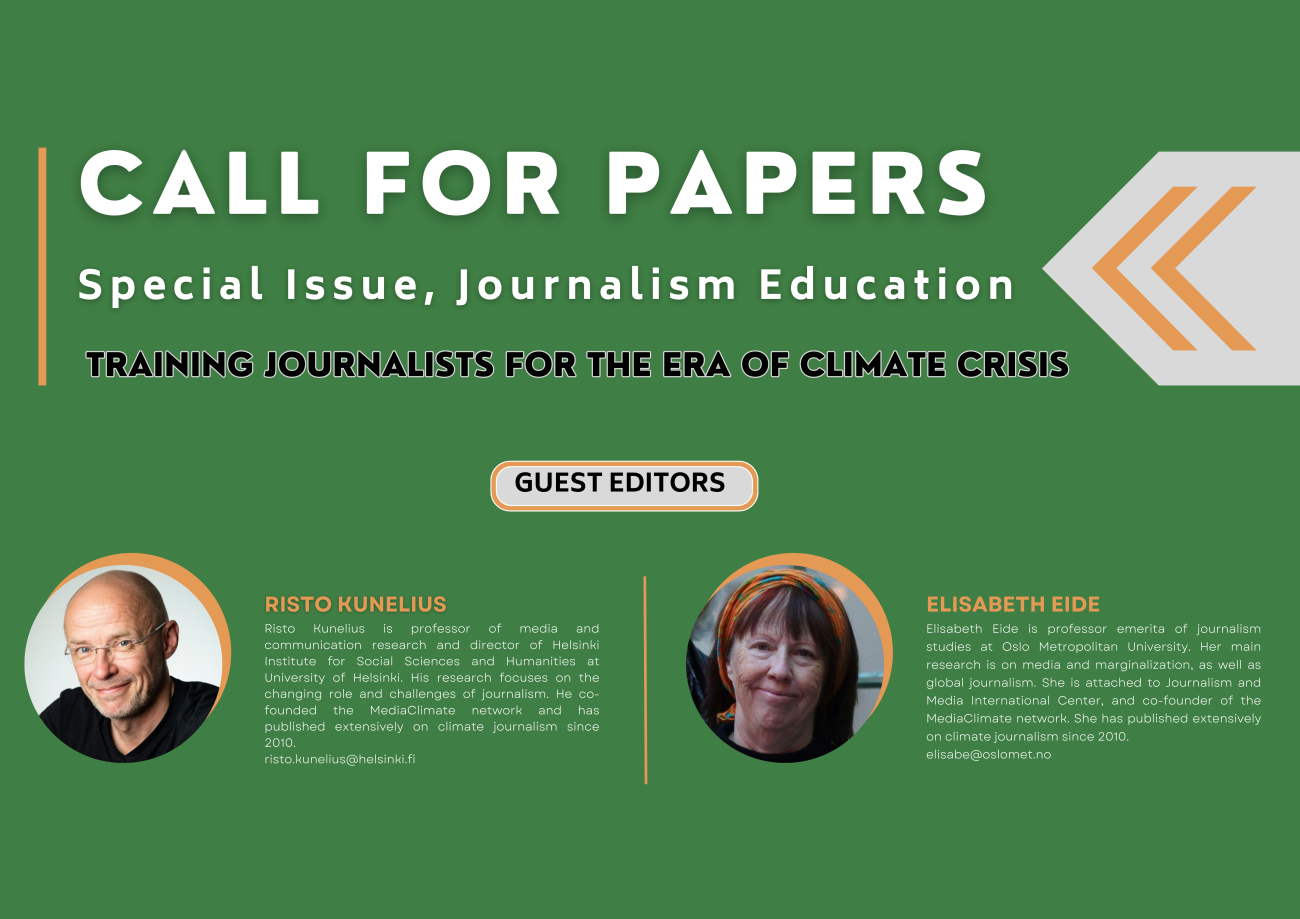 TRAINING JOURNALISTS FOR THE ERA OF CLIMATE CRISIS
Training of new generations of journalists today takes place in an increasingly volatile world, troubled by entangled wars, conflicts and global crises that range from information disorder, stunning inequality in and between nations, polarized politics, and rising authoritarianism. Such tensions historically are the bread and butter of journalism. However, they now take place in a qualitatively new context, where the risks and uncertainties about the earths climatic system (IPCC, 2023) and the rapid loss of biodiversity (UNEP, 2022) destabilize the modern, carbon driven lifestyles, institutions, personal trajectories, and global/international relations. The need for journalism educators to take on the challenges of this complex area is dire.
This systemic crisis – or better, a future of continuous, rapid and long-lasting adaptation – is changing journalism. The changes happen directly, as climate reporting calls for new skills of assessing and explaining knowledge(s), and linking everyday news events to the deeper, structural changes that the climate crisis signals (both in nature and in societies). It also takes more indirectly place through the changing social, technological, and political contexts where journalists do their work. This challenges journalists to work at building bridges between professional journalists, and between journalists and other stakeholders. It also entails assessing journalism educators' challenges in working with journalism's role as social and political communication. The era ahead is one of massive, unpredictable, and difficult climate mitigation as well as adaptation that reaches from routines from everyday life to large scale social systems (beyond nation states).
These major challenges call us to think about the theories, principles, and practices that underlie education of professionals. It poses questions about the institutional contexts where journalism education takes place. And they challenge us to innovatively think about new formats and models of journalism training. It demands that journalist trainers transform not only their teaching but also themselves.
This Special issue invites people who train journalists (new recruits, part-timers, newsroom leaders, theme specialists) to share their experiences, problems, ideas, and innovations – and by doing so contribute to a collective, transnational dialogue about the direction, responsibility and influence of journalism education.
Contributions can tackle any relevant topic that connects the current challenges of the climate crisis to an aim to develop and enhance the capacity of journalists to cover the ongoing transformation. We invite articles and essays that (for instance):
· Report and assess journalism training projects, including curriculum development in specific contexts and locations
· Describe and assess news ways fact-checking, new modes of dialogic/deliberative reporting, or co-production experimenting
· Highlight combining teaching with journalist field work
· Connect climate knowledge and reporting on people's livelihood experiences
· Analyze building networks for transnational journalism or journalism education
· Integrate climate journalism into teaching journalist genres, news, storytelling, other thematic courses
· Discuss the need for cross-disciplinarity (natural science, economy, etc.) in climate journalism education
· Take advantage and criticize various platform affordances
· Reflect and renew theoretical concepts that underlie the training of (professional) journalists
We welcome different kinds of contributions:
Full articles (max 7000 words)
Reports and assessments of training projects, sharing ideas and best practices (max 3000 words)
Essays on specific themes, initiatives, and innovations (max. 2000 words)
Schedule:
Full articles will undergo blind peer-review. Deadline for extended abstracts (700 words) August 31, 2023. Invited submission selected and announced by September 30, 2023. Final article manuscripts deadline January 15, 2024.
Reports will be reviewed by theme issue and journal editors. Deadline for abstracts (300 words), August 31, 2023. Invited submissions selected and announced October 31, 2023. Final manuscripts deadline February 15, 2024.
Essays will be reviewed by theme issue and journal editors. Deadline for abstracts (100 words) August 31, 2023. Invited submissions selected and announced, October 31, 2023. Final manuscript deadline February 15, 2024
Please send your abstracts to the following address: AJEJournal@gmail.com
Questions about the special issue can be addressed to the guest editors.
Guest editors:
Risto Kunelius is professor of media and communication research and director of Helsinki Institute for Social Sciences and Humanities at University of Helsinki. His research focuses on the changing role and challenges of journalism. He co-founded the MediaClimate network and has published extensively on climate journalism since 2010.
e-mail: risto.kunelius@helsinki.fi
Elisabeth Eide is professor emerita of journalism studies at Oslo Metropolitan University. Her main research is on media and marginalization, as well as global journalism. She is attached to Journalism and Media International Center, and co-founder of the MediaClimate network. She has published extensively on climate journalism since 2010.
e-mail: elisabe@oslomet.no